RSVP for our next Chapter Dinner
Corporate One will be hosting our April 12th Event
We will be introducing our 2018 charity Project 211 of the Big Bend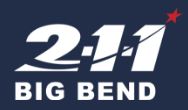 Also our 2017 Annual Meeting
EVENT SPONSOR

| | | | | |
| --- | --- | --- | --- | --- |
| When: | | | | Where: |
| Thursday, April 12th, 2018 | | | | Wahoo Seafood Grill |
| 5:30 - Networking / Registration | | | | 2714 Graves Rd , Tallahassee, FL 32303 |
| 6:00 - Presentation / Dinner | | | | (850)629-4059 |
Our attendees love door prizes!
Please email us at
info@tallahasseechapter.org
if your organization would like to bring a door prize for our attendees!
Cost: $35.00 per person, made payable to: Tallahassee Chapter
We are now accepting Contactless Payments (Apple and Android Pay) along with credit card and Chip payments at the event (Visa, MasterCard, American Express, Discover, and JCB).
Checks can be mailed to:
Tallahassee Chapter of Credit Unions
PO Box 16255
Tallahassee, FL 32317-6255
Checks or credit cards can also be presented at check in.
Please RSVP for this event before Wednesday April 4th, 2018*.
*Please note that we are required to provide a headcount to the venue by the deadline specified above. If you are unable to attend, please notify us before the RSVP deadline to cancel or you will be asked to pay the cost of the dinner. Thank you!